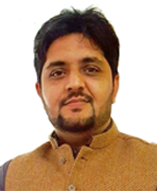 FAHAD BIN ZAFAR
- ENTREPRENEUR
- SEO ANALYST
A highly motivated and confident individual who has a successful track record of making online campaigns gainful, and who also holds exposure to software development, and other related disciplines.
Fahad Bin Zafar

December 28

Lahore, Pakistan
Employment
Manager - SEO Tech

2020 - Present

Ensuring strategic goals are met by setting operational policies, creating and maintaining budgets, managing employees, as well as responsible for planning, implementing and managing SEO strategies.

SEO Tech

2019 - 2020

Working in the heart of Dubai, with the leading Digital marketing agency as SEO Tech. Responsible for SEO growth for highly competitive clients in the marke. Proven record of meeting the guaranteed results.

Co-Founder – SEO Head

2016 - 2019

A Pakistan based company, which provides high end online services. Specialized in Online Marketing, Search Engine Optimization, Web/Software Development, Web Designing and tele-sales. At Innobiz overseeing follwing departments:

-- SEO Head

-- Software / Web Development

Sr. SEO Analyst

2011 - 2018

Overseeing the management of a portfolio of campaigns, and responsible for building, developing and implementing SEO and social media strategies from the ground up.
Development Skills - C#, Java, VBA, HTML
SEO Ranking Tool

(C#, VBA)

Software Development

It is a Keyword tracking service to track the ranking of keywords in Google. It is mainly related to data scrapping, developed in C# and a minor version for MS Excel in VBA using third party SEO tool.

Flappy Superhero

(Android - JAVA)

Game Development

Clone of Android game flappy bird.

OldBookShop

(C#/Java/HTML - Android)

Web / App Development

Worked on Final project "OLDBOOKSHOP" for MCS degree Mainly worked on ASP.Net for web solution and Android for mobile app.

Data Scrapping

(C#)

Software Development

Developed console services to scrap data from different nature of websites.

Link Verification tool

(C#)

Software Development

It is a simple link testing tool to verify HTML link presence on a webpage.
Education
Master of Computer Science

2013 - 2015

University of Management and technology, Lahore, Pakistan

Master of Business Administration (Finance)

2009 - 2011

COMSATS, Lahore, Pakistan
SEO Skills
Site Structure And Management

Keyword Research

Traffic Analysis

Research And Testing

Constant Keywords Evaluation

Content Syndications
Programming Skills
C#

Java

HTML

VBA

Wordpress

JavaScript
Tools
MS Excel

MS Visual Studio

MS PowerPoint

Photoshop

Dreamweaver

SubLime

Filezilla